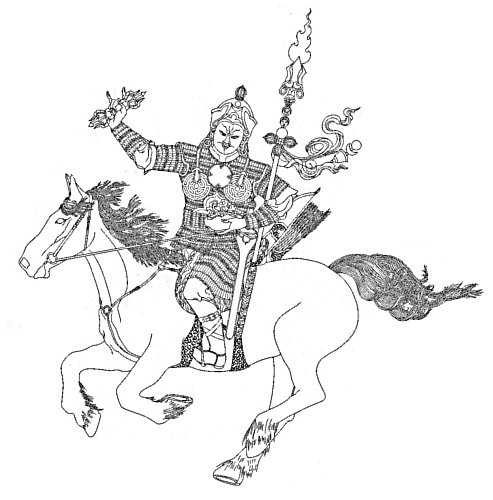 We were particularly delighted that 'Drala' is part of the centre's name, as Drala is connected with practices associated with Ling Gésar. Gésar training from the gTérma of Rang-rig Togden is offered by teachers from the Aro Tradition. This training contains elements of equestrianism, martial arts, and physical yoga and we intend to invite Gésar teachers to Drala Jong to give instruction on these practices once the centre is opened.
The Ling Gesar story is part of popular Tibetan folklore, but there are also practices associated with him found in several different Buddhist lineages. When visiting Kyabjé Kunzang Dorje Rinpoche and Jomo Samphel in Nepal, films were shown of Gésar's life, and Kunzang Dorje Rinpoche and Jomo Samphel dressed in Ling Gésar costume, gave gifts associated with Ling Gésar and demonstrated Gésar cham.
So all these strands that connect the Aro gTér to Ling Gésar have come together in recent years and his practices are now part of the wider Aro Tradition – and 'Drala' is enshrined in the name of our planned UK retreat centre.
Taken from 'The meaning of 'Drala Jong', and ties to Ling Gésar'
Please see the Appeal page for more information about the project and how to help.