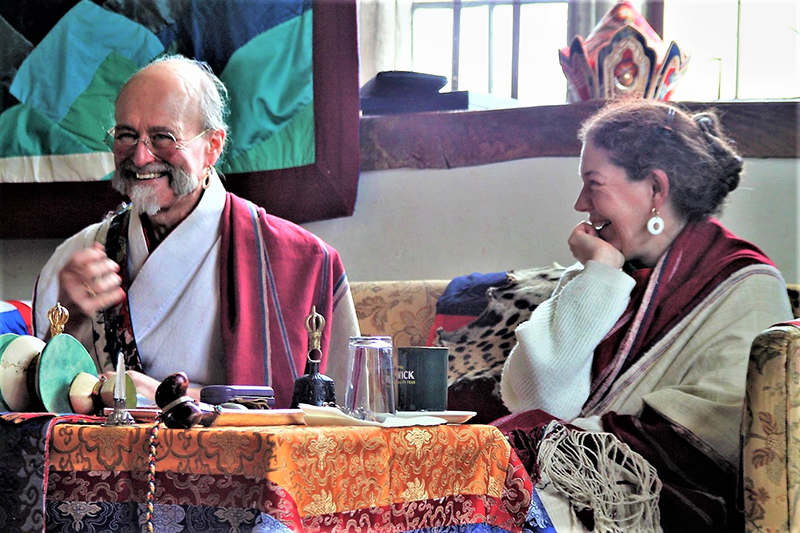 The Aro gTér tradition is a small family lineage of practitioners within the Nyingma school of Tibetan Buddhism. It is a Vajrayana and Dzogchen lineage, containing teachings and practices from the three series of Dzogchen (sem-dé, long-dé and men-ngag-dé) and offering teachings on major Buddhist topics from the perspective of Dzogchen.
The Aro gTér is a non-monastic lineage that emphasizes householder practice and non-celibate ordination in the style of ngakpas and ngakpas / naljorpas and naljormas. All of its contemporary teachers are ethnically non-Tibetan.
The lineage is named after its founder, the female visionary Kyungchen Aro Lingma, who comes from a line of accomplished female practitioners that begins with Yeshé Tsogyel – the female Tantric Buddha who founded the Nyigma tradition and established Buddhism in Tibet together with Padamasambhava (also known as "Guru Rinpoche", the male Tantric Buddha).
Providing equal opportunities for female practitioners, the integration of profound Buddhist practice into family life, and healthy families and romantic relationships are at the core of the tradition.
Donate to Drala Jong
Please act today, and donate a lump sum or establish a standing order for a monthly contribution. No matter how small or big – we are utterly grateful for every donation.