The imagery of meditation beings and of  spiritual teachers plays an important rôle in Vajrayana. Below you can see Kyabjé Künzang Dorje Rinpoche and Jomo Samphel Déchen Rinpoche, the root lamas of Ngak'chang Rinpoche and Khandro Déchen. The book Wisdom Eccentrics gives a detailed account of the early relationship between Ngak'chang Rinpoche and his teacher Kyabjé Künzang Dorje Rinpoche. Jomo Samphel Déchen Rinpoche is living in Boudhanath next to the Great Chörten in Kathmandu, Nepal. She is the only root teacher of Ngak'chang Rinpoche and Khandro Déchen who is still alive today.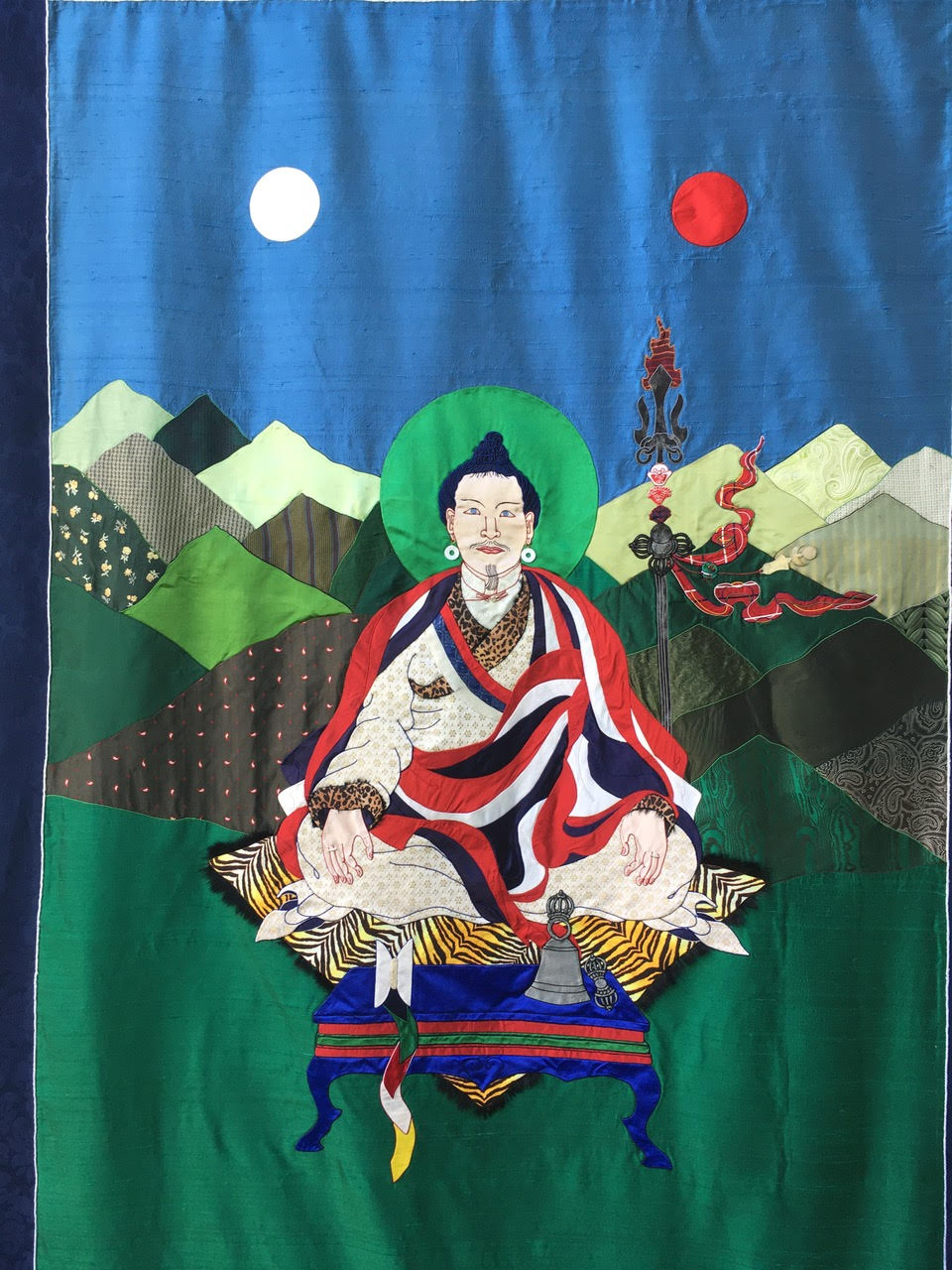 Kyabjé Künzang Dorje Rinpoche
Jomo Samphel Déchen Rinpoche
The two thangkas above have not been painted but they are a patchwork of fine silk satins and brocades. They have been made by Naljorma Nyima according to the Tibetan tradition of making applique thangkas, which is taught by Leslie Rinchen-Wongmo in the West. In Tibet and Bhutan applique thangkas were often huge to be rolled out on hillsides or down the sides of monastery buildings for special holidays or ceremonies. In contrast the applique thangkas in the Aro gTér tradition tend to be of fairly regular size. Apart from the two thangkas above, the shrine room of Drala Jong will also host appliqués from Padmasambhava, Yeshé Tsogyel and Ling Gésar.
Technique
Starting point for each appliqué thangka is a line drawing. Pieces of fabric are than stitched together to obtain the different shapes of the image. The contours are defined by using horsetail cords which are created by wrapping coloured threads around single hairs from horses' tails. This is a highly elaborate process but the resulting images are absolutely beautiful.
Naljorma Nyima says:  "The traditional appliqué technique is a wonderful opportunity to appreciate the senses throughout the entire process – from choosing the fabrics to mounting the pieces together. And it is also a practice in passion and precision."
In the Tibetan tradition appliqués are seen as even more precious than painted thangkas.
In our tradition appliqué thangkas have the interesting feature that certain implements are not made out of fabric but other materials are used. For example the conch earrings are actually made out of  conch or the gZi stone is an actual gZi. This enhances the three dimensional appearence of the thangka.
Donate to Drala Jong
Please act today, and donate a lump sum or establish a standing order for a monthly contribution. No matter how small or big – we are utterly grateful for every donation.