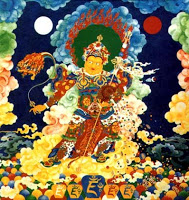 In 2008, with a few items still to come in, we have raised a further:
£7,330 for the Drala Jong Retreat Centre Appeal – taking the fund balance to just over £60,000
£800 for the Lhundrup Thobgye Ling School at Pemako – taking the total raised to over £4,500 since we started
£645 for the Künzang Dorje Rinpoche and Jomo Sam'phel Housing Appeal – we've paid for their housing for more than five years.
Our full accounts for 2007 can be found at the UK Charity Commission website at:
and our 2008 accounts will be there later this year.
By way of comparison with other charities, I was chatting with an uncle of mine at Christmas who is the IT Director of a major UK charity which is at the smaller end of the list of large mainstream UK charities like Oxfam, Save the Children and so on.
They have over 400 full time employees, and thousands of volunteers. Last year was their best ever for public donations, raising £87,000 for each of their full time employees. They are also part of the Government's pool of Disaster Recovery Fund charities, which means anytime there's an overseas disaster that hits the news, they get hundreds of thousands of pounds of free mass media advertising from the government.
By comparison what we've raised has been purely using unpaid volunteers, with no outside assistance. I'd argue that's a great showing.
Many folk have been involved in this exercise in some fashion, but particular thanks regarding Drala Jong brochures go to Ngakma Pema Zangmo, Alex Hubbard and Clive Way, who between them have undertaken a mass of the work in contacting the rich and famous, and to Ngala 'ö'Dzin and Sharon Kilty who found us a bucketful of addresses used.
We have now hit our target of sending out 111 Drala Jong Appeal brochures which have either been 'sold' for £20 a time, or sent out to the rich and famous.
We can now move into the next stage of fundraising. I had originally planned to rob a bank, but in the current climate that appears to be a sub-prime option.
Best wishes to you one and all for your time and energy in 2008. Here's to a grand 2009.
Much love from
Ngakpa Namgyal