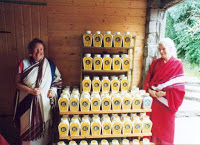 The Treasure Vase (gTér Bum) ceramics project is an example of our craft work. It was led by one of our qualified teachers, Ngakma Nor'dzin Pamo (left).
Completed in 2005 this project demonstrates the charity's ability to create wonderful and unique works, in support of our charitable goals.
This particular project involved donation of many vases to charitable causes whilst selling all the rest of the vases to individual donors to generate a healthy return which covered all project costs fourfold.
The Drala Jong project seeks to create a home for the Aro gTér Lineage. Please see the Appeal page for more information about the Drala Jong project and how to help.